Austria is a small country with lots to see and do--and very easy to get around on the train. The great benefit of taking the train in Austria is the scenery; you won't have to focus on driving those winding roads from the seat of a train. The rides from or to Bolzano or Venice in Italy are quite spectacular, and Brno is the Czech Republic is a fine stop as well. Besides, independent trains have emerged to make the voyage quite a bit less expensive. It all adds up to a pretty carefree way of travel if you know what you're doing.
First, let's look at a map of the train lines in Austria.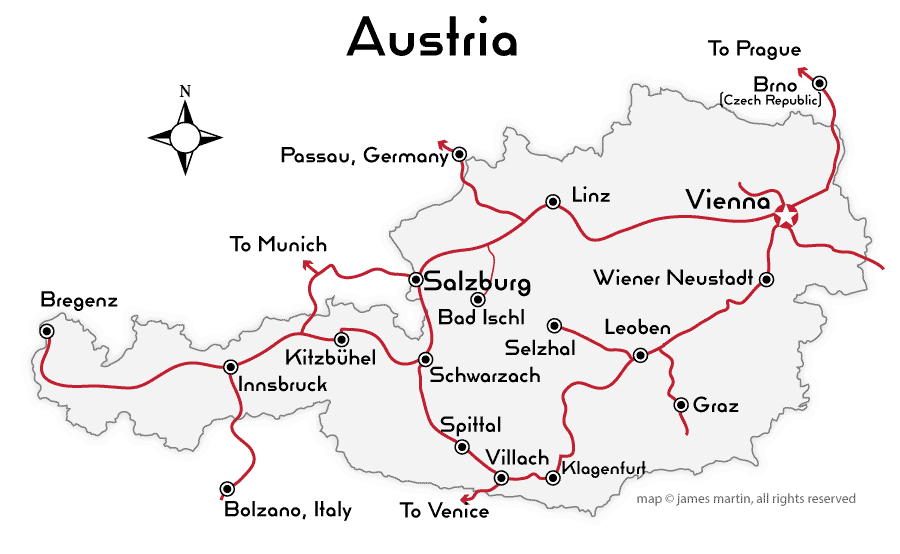 Discloser: Content in the following sections contains affiliate links, from which we receive a small sum that allows us to bring this free content to you.
Austria Rail Travel Toolbox
The Austrian Federal Railways (ÖBB) runs a network of 5700 km of rail lines. Smaller companies run lines on alpine routes. There are lines running only in the summer for tourists as well.
What's new are the upstart budget railways like Flixtrain, which marketed by Flixbus. Like budget airlines, they don't often operate from the central stations. For example, in Vienna, the Flixtrain operates from the Wien Hütteldorf railway station at Keisslergasse 5. The trains aren't slow; the times for the Vienna to Salzburg run are comparable to the Railjet and the cost can be half that of the "fast" train. If you ask for trains between Vienna and Salzburg on the OMIO box below, you'll see these routes.
There is a separate web site for the Vienna Airport Lines, where you can order Online/Mobile Tickets to or from the Airport.
There are three types of high speeed trains run by OBB in Austria: EuroCity (EC), RailJet (RJ) and WESTBahn, run between the major Austrian cities.
Train Times Within Austria
Vienna to Salzburg: 2:49 Booking and Information
Vienna to Innsbruck: 4:14 Booking and Information
Salzburg to Innsbruck: 1:48 Booking and Information
Travel Alternatives to the Train
Vienna in the rain, time to take the train! [Austria Weather and Historic climate Info]
The Omio box below will allow you to compare time and cost for all types of travel: airline, bus, train and even carpool in some cases.
If you Drive In Austria
General Speed Limits (unless posted otherwise): 50 km/h in towns, 100 km/h on highways, 130 km/h on motorways.
Driving on Austria's motorways requires the purchase and display of a "vignette" (a sticker) on your vehicle, which you must buy before attempting entering the autobahn.
Wearing seat belts is compulsory in Austria.