Meteora is one of Greece's great treasures, and certainly if you walk the footpaths between them you'll be taking one of the world's most spectacular walks.
The scenery here is weirdly awesome, and it's difficult to imagine how much desire to escape persecution there had to be to build Meteora's almost inaccessible monasteries.
The Meteora is a rock formation in central Greece hosting one of the largest and most precipitously built complexes of Eastern Orthodox monasteries, second in importance only to Mount Athos. The six monasteries are built on immense natural pillars and hill-like rounded boulders that dominate the local area. It is located near the town of Kalambaka at the northwestern edge of the Plain of Thessaly near the Pineios river and Pindus Mountains. ~ Wikipedia
See if you can find them in the map below. It's not hard, they're marked for you.
Discloser: Content in the following sections contains affiliate links, from which we receive a small sum that allows us to bring this free content to you.
Sketch Map of Meteora Monastery Locations and Trails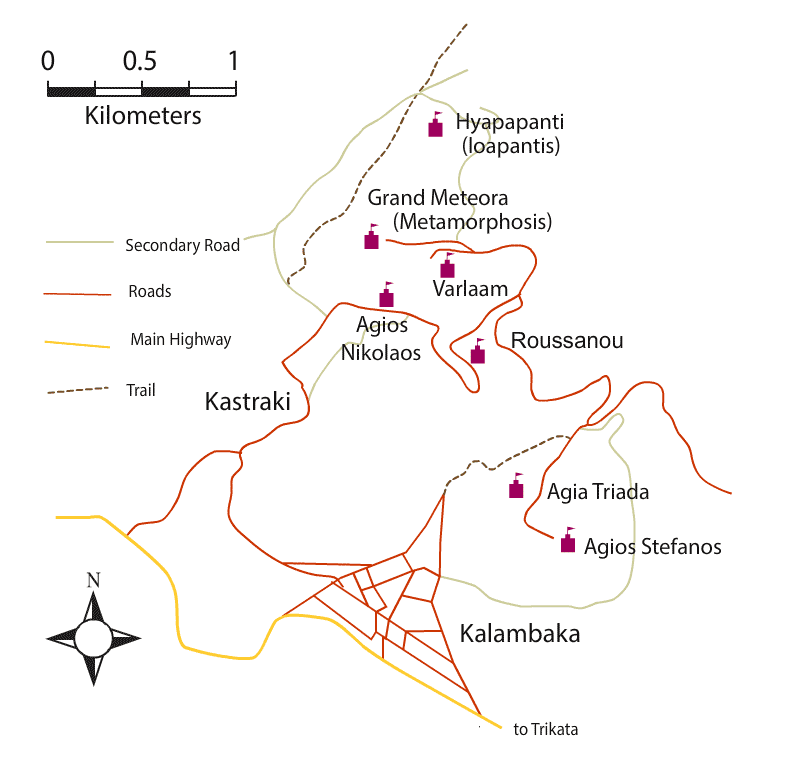 Meteora Monasteries Travel Toolbox
Meteora monasteries grew out of the need to avoid Turkish persecution during the occupation in the 14th century. Monks had inhabited caves in Meteora since the 11th century, but the inaccessible peaks provided relative safety for Greek Orthodox monks. Until recently, access to the monasteries was by rope ladders and baskets. Today the monasteries are all connected by a series of paths and roads, the major ones shown on the map (there are many more footpaths than are shown).
As with monastic work in other times and other places, the monasteries of Meteora kept alive the artistic and religious culture of the Greeks during foreign occupation, and that's why there is so much of interest to see here.
Visiting the Monasteries
First off, there is a strict dress code if you want to visit the monasteries. Men must wear long pants and women long skirts. Sleeveless shirts are not allowed.
There are small fees for visiting. Each monastery is closed at least one day a week in summer, sometimes more in the winter. If you have a specific monastery you wish to visit, make sure to visit the tourist office in Kalambaka (in the main square with the fountain) and check the times. The web is notoriously lax about keeping up with schedule changes, so I have not attempted to give you closing days. Be aware that every monastery that is open closes at lunch time, 1-3pm.
To see all the monasteries shown on the map, you'll have traveled over 20km.
Most tourists stay in Kalambaka, some in Kastraki. Kalambaka is very"touristy" but not without its own charm. There is a train station in Kalambaka linking the area to Volos and Athens, and there are frequent buses to many destinations. Both methods of public transportation take about 8 hours from Athens to Kalambaka. You can hire a taxi to take you to the monasteries; some drivers can even act as guides.
This link shows you how to get from Athens to Kalambaka by various means.
Of course, if you want to let experts plan your trip from Athens to Meteora, you can take a 3 Days/2 Nights Rail Tour from Athens at a reasonable cost.
Weather and Climate
Find the historic temperatures and climate conditions for various tourist desinations in Greece: Greece Climate
Where to Stay
The Hotel Meteora is one of those old-fashioned Greek hotels that's clean with owners that will go out of their way to help you see their spectaular corner of Greece. It's close to the monestery trail.
Hotel Doupiani House is very highly rated, air conditioned, and has spectacular views.
To search Kalambaka or other cities, use the search box below.
Meteora Drone Video
Where to Go from Here
Besides visiting Meteora, just to the east of Kalambaka is the town of Metsovo, known at the time of the monasteries as the home of Greek master wood carvers. You can see some of their work inside the monasteries; the one that attracted me was a crucifix so small and detailed you needed a magnifying glass to see it.