The Cyclades are perhaps the most famous island group in Greece; these are the islands most tourists talk about when "Greek island hopping" is being discused. Many of the islands you've heard lots about: Santorini is known for its laid back attitude and beautiful setting and Mykonos is known for its nightlife and the beautiful people who can afford it. You'll get a chance to escape the beautiful people on the smaller and lesser known islands.
There are airports in Naxos, Mykonos and Santorini which host charter flights from Europe. Smaller airports are found in Paros, Milos and Syros.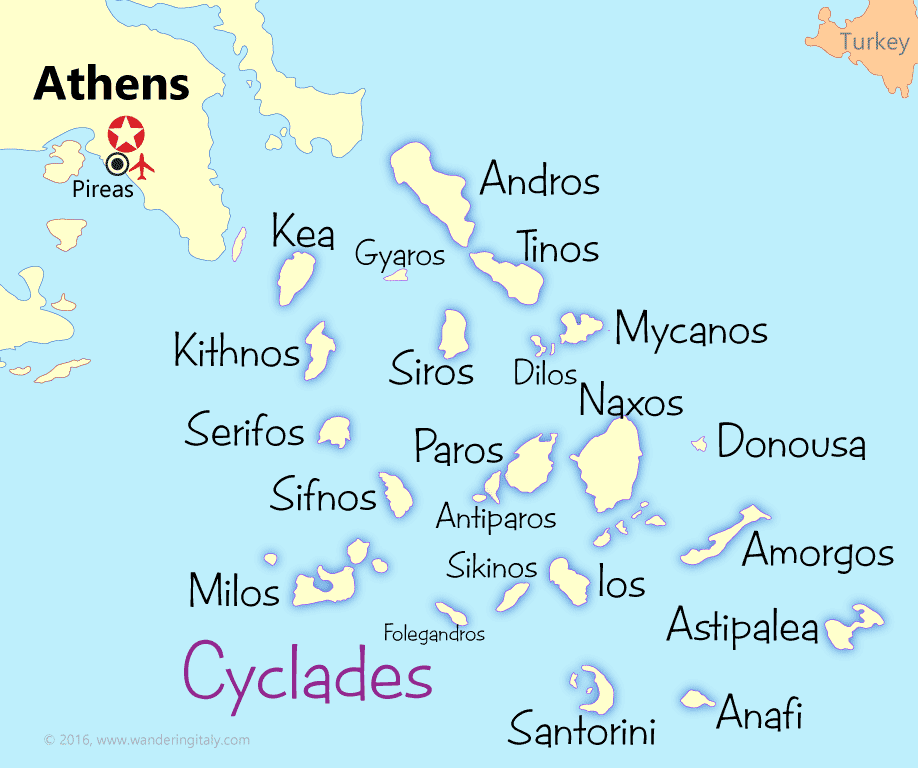 Despite what you see on this map, there are about 220 islands that make up the Cyclades, many of them way too small to be put on the map. The islands you see are the actually the peaks of submerged mountains--except for Milos and Santorini which are volcanic islands.
Tinos, a lesser known Cycladic island in the center of the island group is the religious center of Greece. Pilgrims come to seek spiritual comfort at the church of Panayia Meyalóhari.
Little Kea has the largest oak forest in the Cyclades and one of the few remaining in Greece. Bird watching is popular there. The main town, traditional village Chora has castles, churches and an archaeologlical museum to visit.
Ios takes its name from the Greek word for the flower violet. The birthplace of Homer's mother and the place of his tomb is said to be somewhere on Ios.
Cyclades Travel Toolbox
The main way to travel around the Greek islands is by ferry. Faster boats make it from Piraeus to the larger islands in just a few hours, contributing to the Greek island hopping popularity of the Cyclades. A good source of ferry schedules in Greece is DANAE ferry tickets online.
Railpass information: Eurail Greece Pass
| Eurail Greece Pass
For general weather and historic climate information for planning your travel, see Santorini Weather and Climate.
Tours
Viator Santorini Tours Viator Mykonos Tours Viator Cyclades Tours
Places to Stay
User Rated Santorini Hotels and Apartments Mykonos Places to Stay Naxos Places to Stay
For finding a hotel in Greece, see the booking box below