Ephesus is located 3km east of Selçuk along the western coast of Turkey. The ancient city is found south of the Selcuk-Efes airport and the D515 Highway.
Many visitors, however, make the day trip from the resort town of Kusidasi, on the (current) coast, often through a round-trip tour. The Ephesus ruins will take most visitors about 2-4 hours to walk through, as the walkable grounds are about a mile and a half long.
On this map you can see the marshy land to the east of the site, evidence of the silted up harbor of Ephesus that led to its demize. Zoom in the map to see more of the ancient Ephesus structures, including the famous theater on the east site of the hill that separates the site from modern Selçuk.
Map of Ancient Ephesus
Content in the following sections contains affiliate links, from which we receive a small sum that allows us to bring this free content to you.
Ephesus Travel Toolbox
Ephesus is one of the best preserved Roman sites in the world, and a very popular destination for tourists in Turkey.
It was at one time a port city. Silt did it in. The theatre dominates the view down Harbor Street, shown as Arkadiane on the map, which leads to the silted-up harbor you see on the map.
The city was famed for the nearby Temple of Artemis (completed around 550 BC), one of the Seven Wonders of the Ancient World. Among many other monumental buildings you'll see fairly well preserved are the Library of Celsus and a theatre capable of holding 25,000 spectators.
The area surrounding Ephesus was already inhabited during the Neolithic Age (about 6000 BC).
Planetware gives us the sketch map below so that we can see some of the outlying monuments as well as the museum in Selçuk
Guidebooks, audio tours and personal guides are available at both Ephesus entrances, but you may wish to purchase a guide in advance to read a bit about the history of Ephesus and Turkey.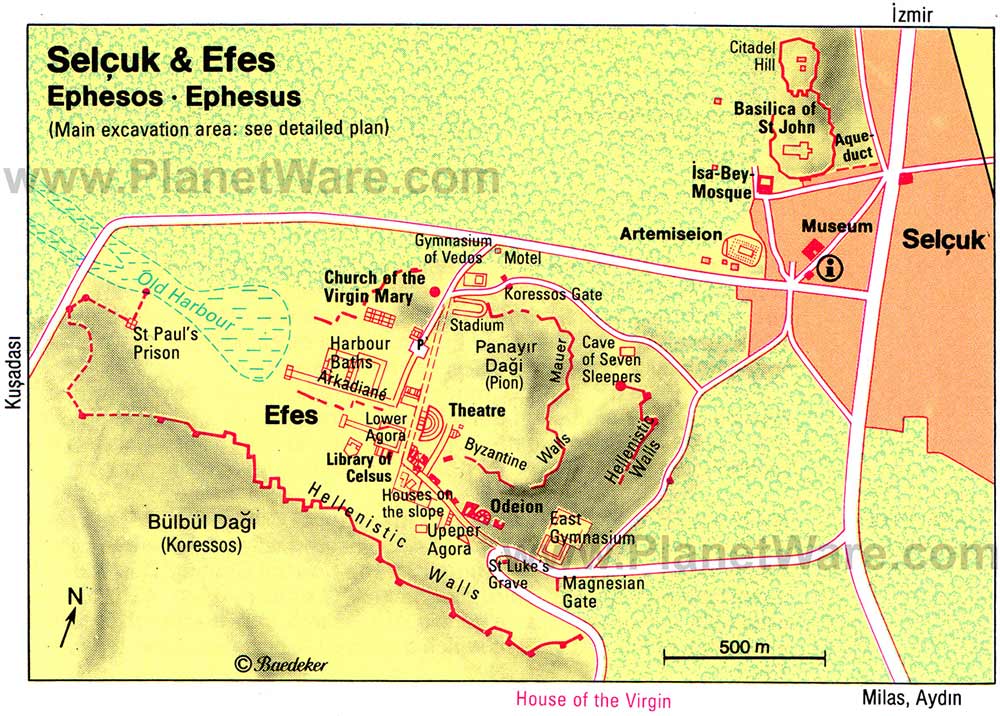 Weather and Climate
In summer, Ephesus is quite hot. Bring a water bottle with you. To plan your trip around the expected climate, see Ephesus Weather and Climate.
Where to Stay
Selcuk has many hotels that cater to visitors who want to see the ruins at Ephesus. The helpful staff and amazing views make the Rebetika Hotel our value choice. The highly-rated Livia Hotel Ephesus is right in the center of town, a five minutes walk to ancient Ephesus.
For other options check out the booking box below.
Is It Safe to Travel to Turkey Now?
Travel to Turkey near the border with Syria isn't recommended. At all. For the discussion on travel to western Turkey, I turn the discussion over to Tom Brosnahan and his excellent Turkey Travel Planner: Should I Go to Turkey Now?
Recommended Guidebook
Around Ephesus and Kusadasi: TAN Travel Guide Kindle Edition