Todi is a showcase hill town, one of the most picturesque in Umbria. While it may lack the cultural attractions of tourist strongholds, it's a great place to relax and soak it all in.
The map below shows the city of Todi, Italy and the clickable markers give you information on the major tourist attractions found in the Umbrian city. Located between Orvieto and Spoleto in south-central Umbria, Todi is a good place to spend a day or two.
Map of Todi, Italy Showing Tourist Attractions
Discloser: Content in the following sections contains affiliate links, from which we receive a small sum that allows us to bring this free content to you.
Todi Travel Toolbox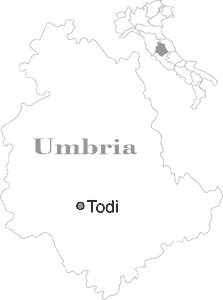 Todi is located in the Perugia province of Umbria in Italy.
Todi makes an interesting day trip, because almost everything you need to see is in or near the Piazza del Popolo, shown on the map. Still, any city is better visited after the tourist hordes have left, and that means staying over will offer great rewards, like enjoying the main square with the locals in the morning over coffee and a bite to eat.
Todi can be reached by bus from Perugia. Local buses run around the perimeter and into the center. The train station, Todi Ponte Rio, is connected by bus to the historic center of Todi.
Where to Stay
If staying in a restored former convent in the country just a few kilometers from Todi, try Residenza San Pietro Sopra Le Acque. To find it on the map, zoom out and look to the east of Todi.
To the west of Todi is the highly-rated country house called Tenuta Di Canonica. It has very ancient underpinnings, "The Tenuta is an ancient structure, which dates back to the Roman era. You can still see the original, Roman brickwork.". It's nice to stay inside a medieval town, but you can also stay outside and view it for a fabulous experience.