Spain has an extensive rail network of value to the tourist seeking to visit large and medium cities and towns. Travel on Spain's trains is relatively inexpensive.
Map of Spain Showing the Rail Network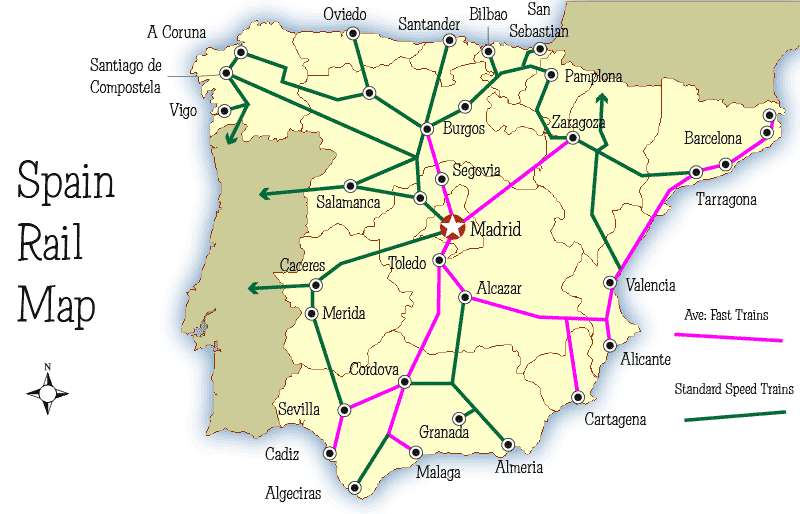 Typical Journey Times Via Spanish Trains
Barcelona - Madrid: 2:30
Seville - Madrid: 2:20
Cordoba - Barcelona: 4:10
Cordoba - Seville: :47
Content in the following sections contains affiliate links, from which we receive a small sum that allows us to bring this free content to you.
Rail Passes
In general, rail passes can save you money when you travel long distances in a day. Short day trips with a return to a big city are relatively inexpensive in Spain, so you don't want to use up a rail pass day on a short trip. A trip from Madrid to Segovia to visit its amazing 2000 year old aqueduct and 14th century cathedral will cost you a reasonable $9 to $20, depending upon time of day and the speed of the train you select. Keep this in mind when deciding between tickets purchased either on line or in the station when you're in Spain.
Find Train Tickets and Passes in Spain.
The High Speed Trains: AVE
Linking the main tourist destinations of Madrid, Seville, Malaga, Barcelona and Valencia are the comfortable and fast AVE trains run on 3,100km of track at speeds of up to 320 km/h. If you'd rather see cities, this is the way to go without wasting time. You'll need to make mandatory reservations through an agency or at the station.
If you select Buisness/Club class, called Preferente in Spanish, you'll be able to access the AVE lounges in the stations before your trip.
If you also wish to visit France, there are high-speed Trains to take you from Barcelona to Paris in a little over 6 hours.
The Transcantabrico: A Luxury Tour of Spain's North Coast
The ultimate luxury train plies the tracks between San Sebastian and Santiago de Compostela through the Asturias and Cantabria regions of Spain. Who'd want to walk the pilgrimage trail when you can tour it in Luxury? The train is like a cruise ship; you can stay onboard at night or go out and explore the towns where it stops. It's not cheap...
For seven nights and eight days the Transcantábrico Gran Lujo will become your living room, your means of transportation, your socialising place, your bar, your bedroom: a hotel on wheels in which you sleep and wake up in a different place every day. The landscape passing by the window of your suite or the lounge where you are having a coffee is never the same. That simple fact makes the trip itself unique and unlike any other experience. -- The Transcantabrico
Whether you're looking for cheap or luxurious, we hope this little guide will help you plan your rail journey through Spain.