From the world's best butter to D-Day Beaches and Memorials, Normandy has something for everyone
Normandy is located in the north of France on the English Channel east of Brittany as you can see in the map below.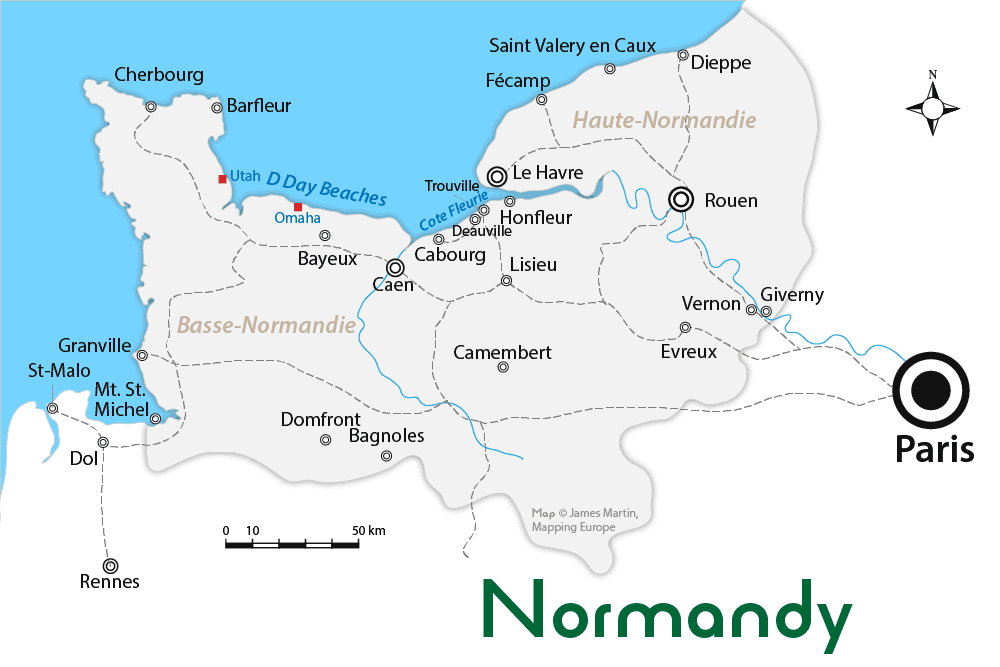 Discloser: Content in the following sections contains affiliate links, from which we receive a small sum that allows us to bring this free content to you.
Notes on the Normandy Map
The gray dashed lines indicate the rail lines that run through Normandy. As you can see from the map, Normandy isn't so far from Paris, the train from Paris Saint-Lazare to Vernon (the closest stop to Giverny) takes around 45 minutes, running along the river Seine. The D-Day beaches, the most famous of which are marked in red on the map, are about 150 rail miles from Paris, stopping at Caen where there is bus service to the beaches as well as rental car offices (directly across from the train station at Caen). A car is recommended when you wish to visit the D Day memorials unless you take a D-Day tour.
Normandy: Places to Visit
Besides the D-Day beaches, two of the top places to visit in Normandy are Mont St. Michel, the most visited site in Normandy, and Giverny--two attrations at opposite ends of Normandy. These sites are well known to travelers, but the charm of Normandy is visiting the smaller villages. There's a lot of history here--and artists have eagerly sought out the Normandy light.
The Cote Fleurie is the coastline between the D Day landings and the mouth of the Seine at La Havre. The impressionists loved it, and a walk around the quaint artist's village of Honfleur will let you know why. Deauville is a popular seaside resort with a casino, Trouville is a picturesque fishing port with a daily fish market. It became a popular resort town about 100 years ago. Cabourg is a Belle Epoque Edwardian seaside resort frequented by writers like Proust and Dumas.
Caen is the capital of Calvados and has a castle and two abbeys, but many come for the Peace Museum. Cafe Mancel, one of its finest restaurants is located inside the Ducal Castle; go in the evening when it's cool and the castle is lit up. Caen, as we mentioned before, is the gathering point for excursions to the D Day beaches. Fewer come for les tripes à la mode de Caen. You can perhaps guess why.
Bayeux is home to the tapestry that carries its name, and is also a town full of museums, split between the war and artisan crafts practiced here.
Cherbourg was once a little fishing village but now sports a large historic port. The Liberation Museum is nearby.
Granville is another seaside resort and commercial fishing village, but everyone comes here for th eChristian Dior Museum; Dior grew up here. Go to the Haute Ville for picturesque. Go to the casino to lose your money.
Domfront is a compelling medieval town with a ruined castle visitors seem to like.
Bagnoles has its hydrotherapic baths which date back to the medieval times as well as some fine Art Deco architecture from the roaring 20s when Bagnoles came into its own as a Belle Époque spa town.
Camembert is a small village you've heard of if you're a cheese eater. Gawk at the half-timbered houses and picnic by the river with your Camembert and bread.
Evreux has a fine cathedral with great stained glass.
Lisieux has a couple thousand years of history under its belt. See Le Musée d'Art et d'Histoire as well as all the historic religious buildings, especially those devoted to Therese Martin, who became only the third femail saint to be raised to the rank of "Doctor of the Church."--then head over to Le Domaine St-Hippolyte where you can taste Normandy specialties, especially the cheese.
Normandy's Larger Cities
Rouen is where Joan of Arc met her sad end, and is very much an art city along the River Seine. Flaubert wrote here, and there's a museum dedicated to him in Rouen.
Le Havre is the largest city in the Haute-Normandie region and has the second busiest port after Marselle. See the Abbey of Graville, Musée des Beaux-Arts André Malraux, Musée du Vieux Havre, the Shipowner Home and the Japanese Gardens.
Where to Stay in Normandy
You might wish to choose an artsy and scenic port city like Honfleur, where you'll find many hotels--or Caen. Hotels in Cherbourg are convenient for tourists intending to visit the Liberation Museum.
Being a rural region, Normandy is worth a week or more. If you're willing to give it enough time, you might try renting a Vacation Home in Normandy
.
France guide Mary Anne Evans recommends a stay at La Ferme de la Rançonnière Hotel.
More on Normandy
To see where Normandy fits within France, see a complete France Regions Map.